YOUR TEAM AT GBL SYSTEMS
Founded by Adrian Malouf in 1993, GBL Systems is a Western Australia owned and operated family business who have been
working in the Naval Base area since 1993.
Adrian has been working in the Industrial coatings industry for more than 25 years with extensive experience in blasting,
painting and estimating. Adrian prides himself on delivering work to his client on time, on budget and of the highest of
quality whilst still maintaining some of the 'old school' approach to business.
Since 1993, Adrian and Barbara have built GBL up from a small one-man operation to a successful 20 plus team.
Over the last five years GBL has seen exponential growth in both the scale of projects and the need for specialised
trained staff and equipment. The employment of several key members of staff, training up existing staff and the purchasing
of innovative blasting equipment has allowed GBL to be at the forefront of Western Australia's largest projects.
GBL have a large base of loyal clients who provide a strong history of repeat business which is based on GBL's
reputation of providing quality works that is done right the first time and delivered on time whilst strengthening our
successful working relationships with our clients.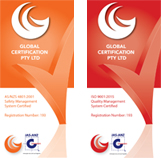 GBL has a strong commitment to Safety and Quality with accreditation in AS/NZS 4801:2001
Safety Management and ISO9001:2015 Quality Management and are currently working towards
achieving accreditation in ISO14001 Environmental Management.